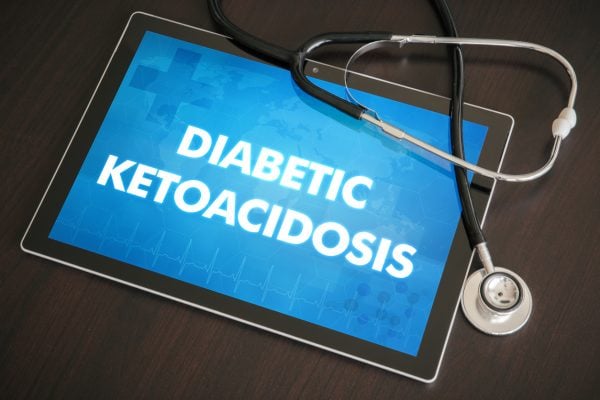 How do coders report diabetic ketoacidosis in ICD-10-CM?
Back in 2018, a new code was introduced to report Type 2 diabetic ketoacidosis (DKA). This was previously reported with code E13.1-, other specified diabetes mellitus with ketoacidosis with or without coma. Now, there is a code specifically for reporting this diagnosis. E11.1- is used to report Type 2 diabetes with DKA with or without coma.
What is diabetic ketoacidosis (DKA)?
DKA is life threatening complication in patients with diabetes. This typically occurs in patients with type 1 diabetes but can also be found in patients with type 2. When a patient has DKA it is implied that they also have hyperglycemia, so no additional code is needed to report that the diabetes is with hyperglycemia. A separate standalone code for hyperglycemia is also not reported and there is an excludes1 note in the tabular.
DKA occurs when the body produces high levels of blood acids known as ketones. This develops when the body is not producing enough insulin. When the body does not produce or have enough insulin, the body begins to break down fat as fuel. When the body switches to burning fat, this produces a buildup of acids that are called ketones. Excess ketones build up and are spilled over into the urine.
Symptoms of DKA:
Nausea & Vomiting

Abdominal pain

Breathing difficulties/shortness of breath

Increased urination

Weakness

Confusion

Loss of consciousness

Breath that smells of fruit

Excessive thirst

High blood sugar level and ketone levels in your urine
Causes of DKA:
UTI

Pneumonia

Other infection

Gastroenteritis

Noncompliance with insulin or inadequate insulin administration

Pregnancy

MI

Stroke

Drug and alcohol use

Eating disorders

Physical trauma

Emotional trauma

Certain medication uses especially steroids and diuretics
Treatment for DKA:
Insulin is given to reverse the process that caused the patient to go into DKA. In severe cases, this will be given intravenously. Once the blood sugar levels fall to be below 240 mg/dL and the blood is no longer acidic, regular insulin therapy can be resumed. Fluid and electrolytes will also be replaced. The fluids are given either via mouth or IV and are given to replace the fluid lost through excessive urination. The fluid replacement will also help to dilute the excess sugar in the blood. The electrolytes will be given intravenously and are sodium, potassium, and chloride. This replacement will help keep the heart, muscles and nerve cells functioning properly.
DKA in Gestational Diabetes:
Since gestational diabetes is used to report pregnant patients with diabetes that do not have pre-existing diabetes mellitus, it would be inappropriate to report codes from categories E10 and E11. Coders would report O24.419 (gestational diabetes mellitus in pregnancy, unspecified control) along with code E87.2 (acidosis).
Prevention of DKA:
Strict adherence to insulin or oral medication regimen

Monitor blood sugars and when uncontrolled treat with insulin as instructed

Healthy eating and physical activity

When ill or under stress, test your urine for excess ketones (test can be purchased over the counter)

Seek emergency medical care if DKA is suspected before it gets out of control
References:
ICD-10-CM Index
AHA Coding Clinic, Third Quarter 2020 Pages: 30-31
AHA Coding Clinic, Fourth Quarter 2017 Page: 6
---
For the past 30 years, HIA has been the leading provider of compliance audits, coding support services and clinical documentation audit services for hospitals, ambulatory surgery centers, physician groups and other healthcare entities. HIA offers PRN support as well as total outsource support.
---
The information contained in this coding advice is valid at the time of posting. Viewers are encouraged to research subsequent official guidance in the areas associated with the topic as they can change rapidly.
Subscribe to our Newsletter
Related blogs from
Industry News

,

Medical Coding Tips
In this Coding Tip, we present the new ICD-10...
Subscribe
to our Newsletter
Weekly medical coding tips and coding education delivered directly to your inbox.