Profee Solutions
Profee Review
Here at HIA, we understand the value of supporting physician practices, and HIApro focuses on just that. HIApro is a professional fee consulting service. Our service identifies specific areas of risk, provides pertinent information and educates clients on proper coding, billing and documentation practices. Our main objective is to build long-lasting relationships with physician practices.
As the number of employed physicians and mid-level providers continues to grow, health systems are faced with additional financial and compliance related challenges. Partnering with a team of qualified professional fee consultants has never been more important.
HIApro assists healthcare providers by performing coding, billing, documentation compliance reviews and education. Our comprehensive service will discover trends that may adversely affect quality scores, identify high risk areas prone to payor audits, help reduce claims denials and ensure appropriate reimbursement.
A few areas of opportunity we have been seeing:
Incident to/ Shared Visits
A sneak peek at what we can offer on-demand:
Detailed worksheet for records with recommendations

Consolidated summary of findings

Individual provider/coder accuracy breakdown

Detailed listing of all diagnoses reviewed with accuracy rates based on potential changes

Educational opportunities for providers/coders
Our comprehensive approach
Fulfill compliance plan requirements
Coverage for internal auditor vacancies
Onboarding newly employed providers
Special projects and investigatory reviews
Due diligence reviews for acquisitions
Following our reviews, HIA offers a multi-pronged approach to educating the relevant stakeholders in your organization. It all starts with an executive summation conference to discuss overall findings. This is followed by an educational session involving your coding team, providers and any others from your organization that you wish to include. In order to minimize interruption to daily production, these sessions are usually one to two hours in duration and focus heavily on common trends and opportunities. Individual educational needs are met with a coder specific action plan drawn from review findings and supported by HIA's proprietary learning management system. All facets offer opportunities to gain CEU's and represent a comprehensive solution to meet educational needs.
Executive summation conference

Provider/coder education session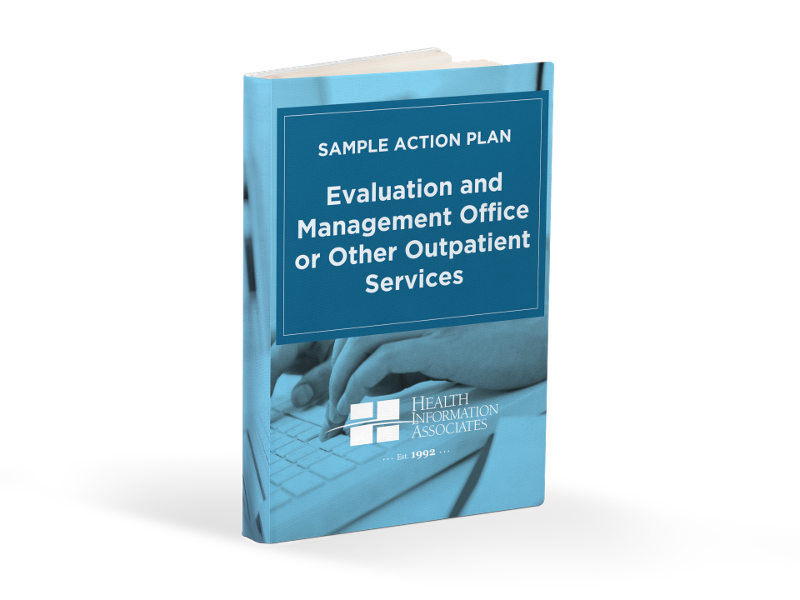 Download Sample Action Plan
Evaluation and Management Office or Other Outpatient Services
Action Plans are designed to cover topic areas that impact coding, have been the frequent source of errors by coders and usually affect DRG assignments. This action plan reviews the clinical aspects of respiratory failure, respiratory insufficiency, causes and treatments. It covers official coding and sequencing advice as well as the coding pitfalls associated with respiratory failure diagnosis coding.
Settings we serve
Settings
HIApro
offers Evaluation & Management (E/M) and Surgical CPT coding and consulting services for the following specialties:
Provider Specialties
Adult Intensivist

Allergy

Anesthesia

Bariatric Medicine/Surgery

Burn/Trauma

Cardiac Catheterization

Cardiology

Cardiovascular Surgery

Colorectal Surgery

Dermatology

Electrophysiology

Emergency Medicine

Endocrinology

Family Practice

Gastroenterology

General Surgery

Geriatrics

Gynecologic Oncology

Hematology/Oncology

Hepatobiliary

Hospitalist

Infectious Disease

Internal Medicine

Interventional Radiology

Medical Genetics
Neonatology

Nephrology

Neuroradiology

Neurology

Neurosurgery

Nuclear Medicine

Obstetrics & Gynecology

Occupational Medicine

Ophthalmology

Oral Surgery

Orthopedics

Otolaryngology / Head & Neck Surgery

Plastic & Reconstructive Surgery

Podiatric Surgery

Psychiatry

Pulmonary Medicine

Radiation Oncology

Radiology

Rheumatology

Surgical Oncology

Thoracic Surgery

Transplant Surgery


Urology

Vascular Surgery

Wound Care