Coding Support
Outpatient Coding Support
Outpatient Coding Support Services
Healthcare organizations are facing an increasing amount of financial and compliance related risks. With the move towards value-based payment models, quality metrics and costs will dictate reimbursement, and the need for qualified coding professionals has never been greater. Many of our clients partner with HIA to replace underperforming coding vendors as they were experiencing both short and long term negative impacts including: DRG changes, increased payer denials, CMI fluctuations and skewed quality metrics. 
 
HIA's remote coding service features:  
Formal quality assurance and continuing education program 

On-demand reporting and online scheduling with Nucleus

Transparency with shared daily coding logs and internal audit results 

Seamless client onboarding process 
Daily Coding Logs emailed directly

Total records coded

Total charges dropped for the day

Total hours worked

Total Queries and Pending Reasons

List of PSI and Quality Measures coded




Personalized Coding Support dashboard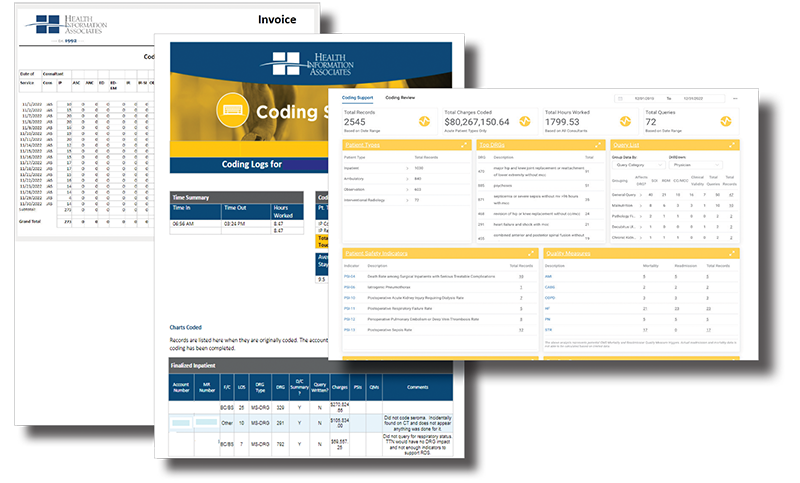 Our comprehensive approach
HIA can support its client's day-to-day operation with remote medical coding assistance to meet ever-changing needs. We're there when you need us most. 
Free Medical Coding Course
Looking to Elevate Your Coding Team's Performance?



HIAlearn.com is our coding education platform with over 200 courses accepted by AHIMA for CEUs, with a selection also accepted by AAPC. Courses are designed to cover topic areas that impact coding, have been the frequent source of errors by coders and usually affect DRG assignments.
If you are interested in purchasing a subscription or training plan, please visit HIAlearn.com. Group discounts are available for your organization.
To see HIAlearn.com in action, sign up for a sample course below.
Settings we serve
Settings
Here's a brief, but by no means exhaustive, list of the settings we serve most often: 
Acute
Short-term acute

Long Term acute 

General med/surg 

Pediatric 

Academic/teaching 

Skilled Nursing
Ambulatory
Pain center 

Infusion center 

Wound center 

Cancer center 

Dialysis 

Imaging center