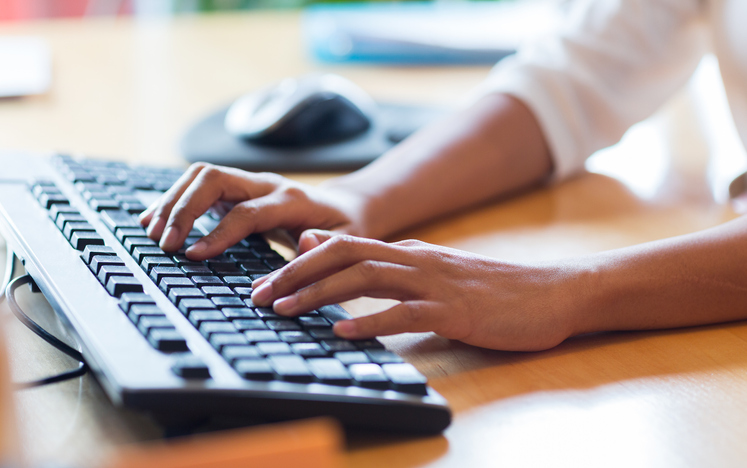 ICD-10-PCS Procedure Code Changes
This is Part 2 of a 4-part series on the 2023 ICD-10 Code and IPPS changes. In this part, the ICD-10-PCS procedure codes are presented.
For 2023 ICD-10-PCS there are:
78,496 total codes (FY2022 total was 78,229)
331 new codes (200 new last year in FY2022)
64 deleted codes (107 last year in FY2022)
0 revised codes (62 last year in FY2022)
Official Guidelines for Coding and Reporting ICD-10-PCS
The only ICD-10-PCS Guideline change was the addition of the below. The information is not new but was never an OCG before.
B3.19 Detachment procedures of extremities
The root operation Detachment contains qualifiers that can be used to specify the level where the extremity was amputated. These qualifiers are dependent on the body part value in the "upper extremities" and "lower extremities" body systems. For procedures involving the detachment of all or part of the upper or lower extremities, the procedure is coded to the body part value that describes the site of the detachment.
Example: An amputation at the proximal portion of the shaft of the tibia and fibula is coded to the Lower leg body part value in the body system Anatomical Regions, Lower Extremities, and the qualifier High is used to specify the level where the extremity was detached.
The following definitions were developed for the Detachment qualifiers:
*When coding amputation of Hand and Foot, the following definitions are followed:
Complete: Amputation through the carpometacarpal joint of the hand, or through the tarsal-metatarsal joint of the foot.
Partial: Amputation anywhere along the shaft or head of the metacarpal bone of the hand, or of the metatarsal bone of the foot.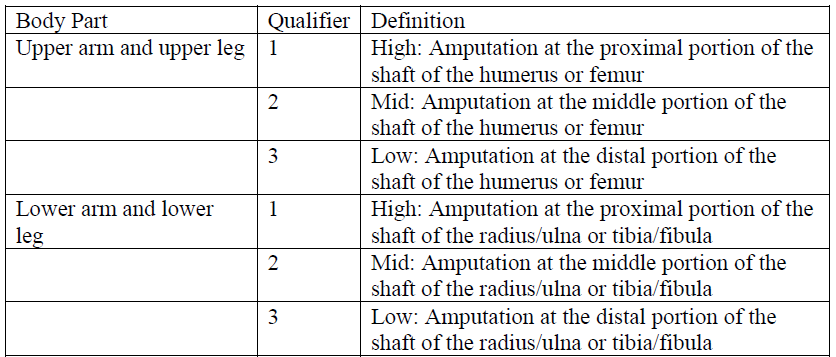 Major Changes to the ICD-10-PCS Tables
I won't discuss every change, however, I will review major changes to the codes in the tables. Note that many body part and substance/technology additions (i.e., Afamitresgene Autoleucel Immunotherapy, Bezlotoxumab, CBMA, etc.)were made to the index as well as the tables. There were 28 pages in the ICD-10-PCS Fy2023 Index update file. Readers can obtain the file of the index addenda at the link in the references. For example, the index now states that for "Abdominal Cavity" to use "Peritoneal Cavity" body part.
One OVERALL addition to the Medical and Surgical Sections is the qualifier 3 - Laser Interstitial Thermal Therapy (LITT). This will be listed under the root operation DESTRUCTION. ICD-10-PCS has moved all LITT procedures OUT OF the Radiation Therapy section to the Medical and Surgical Sections under root operation Destruction. I won't go over each LITT addition below, just know that LITT is coded to destruction of the body part in each Med/Surg section, with qualifier 3 – LITT.
For Central Nervous System, "Cerebellum" was added as body parts under "Extraction."
For Heart and Great Vessels, the qualifier "Rapid Deployment Technique" for body part "aortic valve" was added so that this technology can be captured. Edwards INTUITY Elite Rapid Deployment Valve System is one example of suture-less rapid deployment valve replacement. With its suture-less approach, the rapid-deployment valve may offer patients shorter surgeries with less time spent on heart-lung bypass machines than even other minimally invasive methods. Early evidence shows that the rapid-deployment valve has lower rates of blood leakage around the valve than is experienced with transcatheter aortic valve replacement (TAVR). In addition, the expandable frame enables the surgeon to remove the diseased valve and calcium deposits — not possible with TAVR — before determining the correct replacement valve size and quickly positioning and deploying the expandable frame.
For Lower Arteries body system, qualifier "V – Right Prostatic Artery and W – Left Prostatic artery to both the right and left internal iliac artery under root operation "Occlusion" to allow for coding of occlusion of these vessels. This is sometimes done eliminate blood flow to prostate tumors.
In the Gastrointestinal System, under root operation "Transfer, " qualifiers B-Bladder, C-Ureter Right, D-Ureter Left and F-Ureters bilateral was added to body part Small intestine, and B-Bladder was added to body part Large intestine. These changes enable capture of detail for procedures such as bladder augmentation using an isolated segment of small or large intestine that is still connected to its vascular and nervous supply. Also, ileal ureter procedures that use small intestine connected to vascular supply and nervous supply.
In the Head and Facial Bones body system, sixth character "Infusion device" was added to the "Removal" and "Revision" root operations. You may remember last year it was added to 'Insertion" however the other two root operations were left off. This is used for intraosseous infusions of the skull.
For Anatomical Regions, General body system, approach "Via Natural or Artificial Opening" and Via Natural or Artificial Opening Endoscopic" for Drainage of Neck.
Substance 'R-Other Therapeutic Monoclonal Antibody" was added as a substance to Administration, Physiological Systems and Anatomic Regions, Introduction. This will allow the various monoclonal antibodies that are infused to be captured. Also in the same section, "C-Other substance" was added as a qualifier for "Bones" body region to capture cBMA or concentrated bone marrow aspirate. Also, approach "4-Percutaneous Endoscopic" was added.
In the Extracorporeal or Systemic Assistance and Performance section, qualify "Supersaturated" was added to cardiac continuous oxygenation. Supersaturated can only be continuous, not intermittent.
In the Measurement and Monitoring Section, for MRI, body part 4-Lungs, Bilateral was added along with 3-Hyperpolarized Xenon 129 (Xe-129).
New Technology Section
For X0H- Nervous System Insertion, the body part K-sphenopalatine ganglion was added along with neurostimulator lead to capture insertion of this device. The sphenopalatine ganglion (SPG) is a nerve bundle behind the bony structure of the nose that has been long recognized to be associated with pain pathways of certain headache disorders, such as cluster headache. Stimulation of the sphenopalatine ganglion (SPG) helps relieve headaches and can be used to increase blood flow after stroke. The Ischemic Stroke System (ISS500) is one example. The ISS500 is indicated to increase cerebral blood flow and reduce disability in adult patients with acute ischemic stroke with confirmed cortical involvement in the anterior circulation .\who are ineligible or have no access to IV-tPA and endovascular thrombectomy.
Also, body part Vagus Nerve was added to X0H to allow coding of vagus nerve neurostimulator lead with paired stimulation system, X0HQ3R8.
Quite a few New Technology procedures were added to tables. They are:
X2A7358 for the PiCSO® Impulse System treats patient with acute myocardial infarction (STEMI) with pressure-controlled coronary sinus occlusion.
XF5 (0-1-2) X08 for Histotripsy or ultrasound-guided cavitation of the liver (unsp, right or left lobe.)HistoSonics received FDA approval. Treats HCC- hepatocellular carcinoma. Histotripsy of the liver is an automated external beam therapy that mechanically destroys targeted tissue without incisions, ionizing radiation or heat, through the precise targeting of acoustic cavitation using an image-guided device designed for the local treatment of focal liver tumors.
XKU (C, D) 068 for supplement of either upper or lower spine ligament with posterior vertebral tether May prevent proximal junctional kyphosis after posterior long segment spinal fusion.
XNH (6,7) (0,3) 58 for Insertion of internal fixation device with Tulip Connector into pelvic bone right or left. ALSO, XRG (E,F) (0,3) 58 for FUSION of sacroiliac joint, right or left with internal fixation device with Tulip Connector. SI-BONE, Inc. is one vendor who has the iFuse Bedrock Granite implant. Provides sacroiliac fusion and sacropelvic fixation as a foundational element for segmental spinal fusion.
XRH (B,D) 018 for insertion of posterior spinal motion preservation device into lumbar or lumbosacral joint. These devices are designed to distract (open) the central canal and foramen, where the nerve endings pass away from the center of the spinal region and into the legs. These devices are designed to address pain and activity restrictions from spinal stenosis, and some may be used to treat degenerative disc disease.
XRR (G,H) 0 (L,M) 8 for replacement of right or left knee joint meniscus with synthetic substitute, lateral or medial. The NUsurface® Meniscus Implant (NUsurface) used for mild or greater symptomatic medial or lateral compartment knee pain caused by dysfunctional medial or lateral meniscus or from previous meniscus surgery, and/or a meniscal tear.
XXE0X48 – Measurement of CNS externally, brain electric activity, computer aided semiologic analysis. Used for analysis of epilepsy associated semiologic data using artificial intelligence (AI) software to aid in the detection and classification of epileptic events.
XXE3X58 – Measurement arterial coronary artery flow, quantitative flow ratio analysis.
Medis QAngio XA® 3D. Quantitative flow ratio(QFR®) is a non-invasive approach that uses angiographic images and applies advanced three dimensional (3D) mathematical modelling to facilitate physician treatment decisions prior to, during and after PCI procedures such as cardiac catheterization and PTCA procedures.
XXE3X68 – Measurement arterial coronary artery flow, computer-aided valve modeling and notification
Precision TAVI™ Coronary Obstruction Module utilizes intelligent decision support that may assist physicians in evaluating patients for surgery.
XXE5X38 - Measurement, Circulatory, External, Infection, Whole Blood Reverse Transcription and Quantitative Real-time Polymerase Chain Reaction New Technology 8. Used to diagnose sepsis. Gene expression assay of a blood specimen. Example is SeptiCyte® RAPID.
XY0YX28 - extracorporeal introduction of Taurolidine anti-infective and heparin anticoagulant. DefenCath™, is for use as a catheter lock solution (CLS) with the aim of reducing the risk of CRBSIs from in-dwelling catheters in patients receiving chronic hemodialysis through a central venous catheter (CVC).
MANY new drugs and substances were added to the XW0-Introduction tables for FY2023. They include:
1-Daratumumab and Hyaluronidase-fihj (DARZALEX Faspor®) into subcutaneous tissue for multiple myeloma.
4-Teclistamab Antineoplastic Introduction into subcutaneous tissue for multiple myeloma
D-Engineered Allogeneic Thymus Tissue (RETHYIC®) into muscle for pediatric congenital athymia (children born without a thymus).
0-Spesolimab Monoclonal Antibody into peripheral or central vein for generalized pustular psoriasis.
5-Mosunetuzumab Antineoplastic into peripheral or central vein for relapsed or refractory follicular lymphoma.
6-Afamitresgene Autoleucel (Afami-cel®) Immunotherapy into peripheral or central vein for advanced synovial sarcoma or myxoid/round cell liposarcoma (MRCLS).
7-Tabelecleucel (Tab-cel®) Immunotherapy into peripheral or central vein for Epstein Barr Virus positive post-transplant lymphoproliferative disease (EBV+PTLD). (It is a type of lymphoma)
8-Treosulfan (TRECODNIT®) into peripheral or central vein for preparation for stem cell or bone marrow transplant. (Clear bone marrow to make way for new transplant)
9-Inebilizumab-cdon (UPLIXNA®) into peripheral or central vein for neuromyelitis optica spectrum disorder (NMOSD) in patients who are anti-aquaporin-4 (AQP4) antibody positive.
3-Maribavir Anti-infective (LIVTENCITY®) into mouth and pharynx OR Upper/Lower GI for unresponsive post-transplant cytomegalovirus (CMV) infection.
X-Broad Consortium Microbiota-based Live Biotherapeutic Suspension into Lower GI. (Also known as: RBX2660) It is administered into rectum to treat C. Difficile bacterium colitis. (XW0H7X8)
Coders MUST become familiar with the drugs and substances being used at their facilities, the brand names of them, and also the location of the medical administration records.
Transfusion of OTL-103, OTL-200 is stem cell therapy for Wiskott-Aldrich syndrome (WAS) and leukodystrophy,
Betibelogene Autotemcel (Zynteglo ®) is gene therapy for transfusion dependent beta thalassemia, and
Omidubicel is stem cell therapy for blood cancers were added.
In Part 4 of this series, I will provide a detailed table and discussion of many of these drugs that happen to be NTAP drugs, what they are used for, and the new technology payment. However, some of the additions above did not receive NTAP payment for this year.
References
https://www.cms.gov/medicare/icd-10/2023-icd-10-pcs
The information contained in this coding advice is valid at the time of posting. Viewers are encouraged to research subsequent official guidance in the areas associated with the topic as they can change rapidly.
Subscribe to our Newsletter
Related blogs from
Industry News

,

Medical Coding Tips
Medical coding errors are not just simple typ...
Subscribe
to our Newsletter
Weekly medical coding tips and coding education delivered directly to your inbox.