In
Part 3
, we focused on determining the level of the fusion(s) and how to determine the number of vertebrae fused. In
Part 4
, we are going to focus on identifying which column is being fused (anterior, posterior or both). When coding a spinal fusion record, the operative report should be reviewed to determine if the fusion is being performed on the anterior or the posterior column of the spine, or even both. Let's look at what this means.
Anterior Column:
The anterior part of the spinal column refers to the spine that is at the front of the body. If the fusion that is being coded has documentation of an interbody fusion device/cages or described as interbody, that would mean that the anterior portion of the spine is where the fusion is taking place. This is not the same as the approach. We will discuss the different approaches in Tip 5.
Posterior Column:
The posterior part of the spinal column refers to the spine that is at the back of the body. If the operative note describes rods and screws with bone graft or decortication of the spinous processes this is in the posterior column. Other terms to help determine the posterior column are lamina, facet, articular process and transverse process.
Both Columns?:
Be sure and code both anterior and posterior fusion if both are documented. With all the advances in medical technology, both anterior and posterior fusions are being completed via one incision without having to turn the patient. We will learn more on the approaches in Tip 5.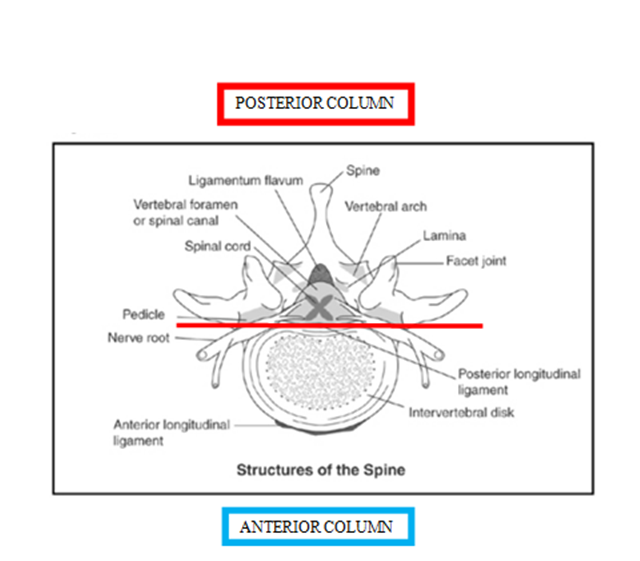 Read parts 1-3 of this series focused on spinal fusions here: hiacode.com/topics/series/spinal-fusion-coding.
Be on the lookout for Part 5, which will discuss how to identify the approach used for the spinal fusion.
References
mayfieldclinic.com/pe-anatspine.htm
The information contained in this coding advice is valid at the time of posting. Viewers are encouraged to research subsequent official guidance in the areas associated with the topic as they can change rapidly.