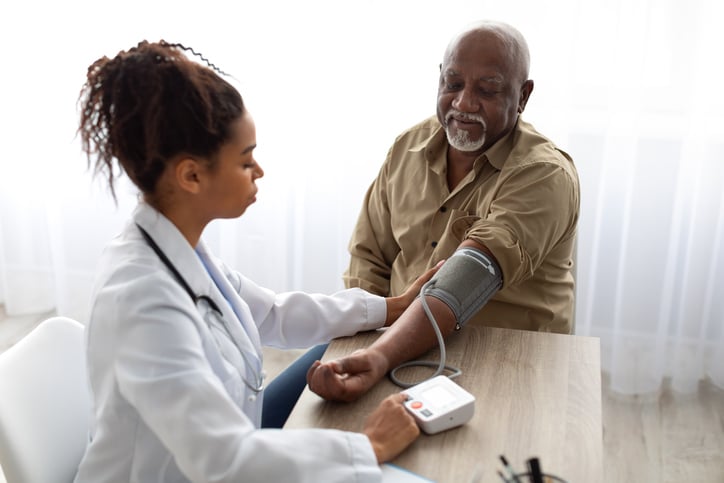 There are now codes to describe hypertensive crisis in ICD-10-CM category I16, Hypertensive Crisis. Coders are now able to differentiate coding of hypertensive urgency (I16.0), hypertensive emergency (I16.1), and hypertensive crisis, unspecified (I16.9). This allows tracking of patients that require immediate treatment for clinically significant hypertension. Accelerated or malignant hypertension would not be coded in this category and would be reported with a code from category I10-I15.
Hypertensive crisis definition:
Hypertensive crisis—severe rapid increase in blood pressure with the systolic (top number) of 180 (mm Hg) or higher or a diastolic (bottom number) of 120 (mm Hg) or higher. This can lead to damaged blood vessels. The blood vessels become inflamed and can leak fluid or blood. This can result in the heart not being able to pump the blood effectively. When patients present with hypertensive crisis, immediate evaluation is needed to assess the organ function and rule out/in any organ damage and then determine the appropriate treatment. A patient without a diagnosis of hypertension may have a hypertensive crisis with a lower blood pressure documented (lower than 180 systolic or 120 diastolic).
Hypertensive crisis is divided into two categories:
Urgent—extremely high blood pressure. The patient is not suspected to have any damage to organs
Emergency—extremely high blood pressure which has caused damage to organs
There are many causes for hypertensive crisis and they can include:
Medication noncompliance or medication reaction/interaction with other drugs
Stroke, MI, heart failure, renal failure
Abdominal aorta rupture
Eclampsia during pregnancy
Signs and symptoms of hypertensive crisis may include:
Severe chest pain/Shortness of breath
Severe headache that may be associated with blurred vision and confusion and/or seizures

Nausea & Vomiting

Unresponsiveness

Nosebleed

Marked anxiety
Swelling/edema
Hypertensive crisis is uncommon in children but if a sudden severe increase in a child's blood pressure occurs they will require immediate intervention to prevent harmful consequences.
When the documentation supports a code from the category I16, Hypertensive crisis, the sequencing of codes is based on the circumstances of admission/reason for the admission/encounter. The coder would also code any hypertensive disease (I10-I15).
See example in AHA Coding Clinic, Fourth Quarter 2016, Page: 27.
References:
ICD-10-CM Official Guidelines for Coding and Reporting FY 2017 Page: 48
AHA Coding Clinic, Fourth Quarter 2016, Page: 26-28
http://www.mayoclinic.org/diseases-conditions/high-blood-pressure/expert-answers/hypertensive-crisis/FAQ-20058491
---
In need of coding support? We offer both inpatient coding support and outpatient coding support services. Partner with us to replace underperforming coding vendors, get coding backlogs caught up, staff for a FMLA/vacation gap, special projects, to assist in Single Path Coding, or for Total Outsource Coding Support.
---
The information contained in this coding advice is valid at the time of posting. Viewers are encouraged to research subsequent official guidance in the areas associated with the topic as they can change rapidly.
Subscribe to our Newsletter
Related blogs from
Medical Coding Tips
In this Coding Tip, we present the new ICD-10...
Subscribe
to our Newsletter
Weekly medical coding tips and coding education delivered directly to your inbox.