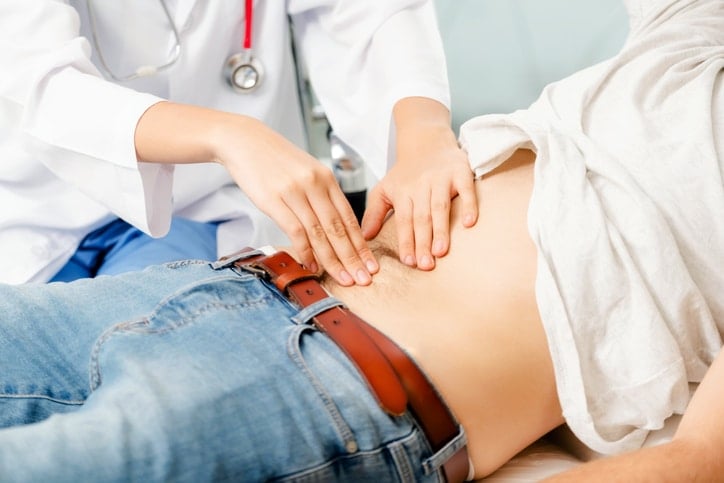 ICD-10-CM presumes a causal relationship between two conditions that are linked by the terms "with" or "in" in the Alphabetic Index or instructional note in the Tabular List. With the clarification published of the understanding of the term "with," there have been many eye-opening clarifications in coding (like in diabetes and now with GI bleeding). This differs from ICD-9-CM as the causal relationship was not assumed.
The word "with" in the Alphabetic Index is sequenced immediately following the main term, not in alphabetical order.
Please Note: As of October 1, 2018, the OCG FY 2019 clarify that "with" or "in" either under the main term or subterm presumes a causal relationship between the two conditions. Prior to this, the OCG only stated the main term.
GI Bleeding and Possible Sources "with" Bleeding:
The cause/etiology of GI bleeding is not always easily determined. During procedures, to work the bleeding up, there are often multiple potential sources of bleeding found but not identified as the culprit. Many of these findings have "with" or "in" in the main or subterms. When this is the case, the condition(s) would be coded as bleeding. If there are multiple findings all of these would be reported as bleeding if "with" or "in" is listed.
Causes (Common) of GI Bleeding:
Peptic ulcers*

Diverticulosis/diverticulitis*

Colon or rectal polyps (not specified as inflammatory)

Intestinal tumor/malignancy

Trauma

Varices

Angiodysplasia*

Colitis

Ulcerative esophagitis or esophageal ulcerations*

Gastritis*

Duodentitis*
The "*" beside the diagnoses/causes above indicate that the causal relationship is made when the conditions are found, and the patient also has a diagnosis of GI bleeding.
The publication of this Q&A in the 3Q 2018 AHA Coding Clinic should help coders in determining when to code "with" conditions.
Outpatient Coding Tip
A combination code indicating a presumed linkage using the terms "with" or "in" is not appropriate for uncertain diagnoses in the outpatient setting. Instead, the Uncertain Diagnoses guideline applies for outpatient coding. The diagnosis should be coded to the highest degree of certainty for the visit.
References
AHA Coding Clinic for ICD-10-CM/PCS, First Quarter 2021 Pages: 11-12
AHA Coding Clinic for ICD-9-CM, Third Quarter 2005 Page 17 to 18
AHA Coding Clinic for ICD-10-CM and ICD-10-PCS, Third Quarter 2018 Pages: 22-23
ICD-10-CM Official Guidelines for Coding and Reporting FY 2019 Page 12-13
ICD-10-CM Official Guidelines for Coding and Reporting FY 2018 Page 12-13
---
In need of coding support? We offer both inpatient coding support and outpatient coding support services. Partner with us to replace underperforming coding vendors, get coding backlogs caught up, staff for a FMLA/vacation gap, special projects, to assist in Single Path Coding, or for Total Outsource Coding Support.
---
The information contained in this coding advice is valid at the time of posting. Viewers are encouraged to research subsequent official guidance in the areas associated with the topic as they can change rapidly.
Subscribe to our Newsletter
Related blogs from
Industry News

,

Medical Coding Tips
In this Coding Tip, we present the new ICD-10...
Subscribe
to our Newsletter
Weekly medical coding tips and coding education delivered directly to your inbox.