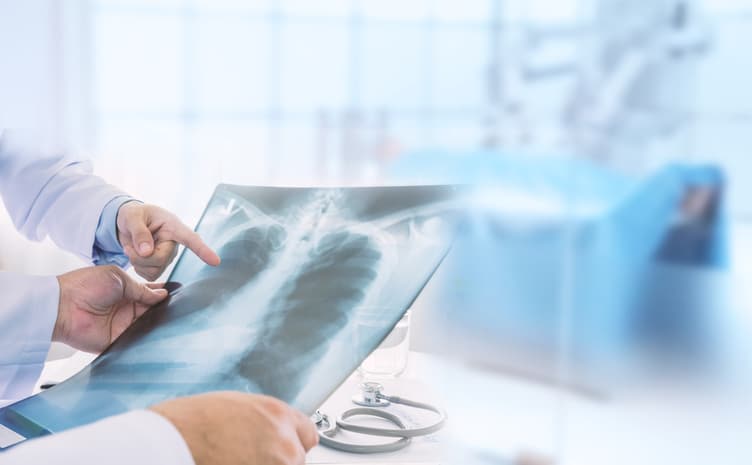 With the implementation of ICD-10-CM there were many additional codes for more specific diagnosis reporting. In late 2018, coding guidance (and indexing) was published instructing coders to report the diagnosis of "lobar pneumonia" to J18.1 (Lobar pneumonia) when the pneumonia was specified to a particular lobe(s). This did cause some confusion and discussion amongst many coders. Due to all the concerns, this was reviewed further by AHA clinical experts and this coding advice has now been rescinded. Lobar pneumonia typically involves
consolidation
of one or more lobes of the lung. This is different than having the presence of an infiltrate in the lobe of the lung. Lobar pneumonia should only be coded when the physician/provider specifically documents "lobar pneumonia" and there is no causal organism specified.
What is "lobar" pneumonia?
"Lobar" pneumonia references a form of pneumonia that affects a specific lobe or lobes of the lung. This is a bacterial pneumonia and is most commonly community acquired. Antibiotics are almost always necessary to clear this type of pneumonia. The antibiotic will be chosen based on the causative organism identified or suspected. This type of pneumonia is also referred to as "non-segmental" or "focal non-segmental" pneumonia and is often referred to in CT of the chest to have the appearance of "ground glass opacity." Presentation is the same as for other types of pneumonia with dyspnea, productive cough, fever/chills, malaise, pleuritic chest pain and hemoptysis as the common clinical presentation. Complications can include pleural/parapneumonic effusion and empyema. Lobar pneumonia documented by the provider is coded to J18.1 unless the causal organism is specified. Be cautious when using some encoders, as some are still leading the coder to report J18.1 when only the lobe or multilobar is documented. In the ICD-10-CM Alphabetic Index, the coder is referred to see pneumonia, by type. As of October 1, 2019, if pneumonia is documented as affecting a particular lobe, it is coded to J18.9, Pneumonia and NOT J18.1. Lobar pneumonia is a clinical diagnosis made by the physician
The picture below depicts the lungs and the pneumonia affecting the lower lobe (A). (B) shows normal alveoli and (C) shows infected alveoli.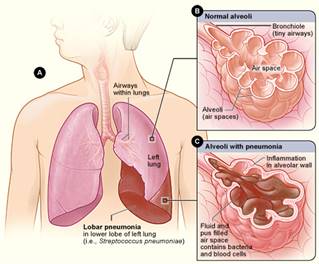 This type of pneumonia is typically acute with four stages:
Congestion—within the first 24 hours patient will develop vascular engorgement (the lung becomes heavy and hyperemic)
Consolidation (red hepatization)—the vascular congestion persists. There is extravasation of red cells in the alveolar spaces. This leads to the appearance of consolidation (solidification) of the alveolar parenchyma
Grey hepatization—red cells disintegrate. There is still appearance of consolidation but the color is paler and appears drier
Resolution—complete recovery (exudate will liquefy and will be coughed up in sputum or drain via the lymphatic system
What organism/bacteria is responsible for "lobar" pneumonia?
The most common cause for this type of pneumonia is Streptococcus pneumoniae (pneumococcus). Other common types of bacteria responsible for "lobar" pneumonia are:
Klebsiella pneumoniae

Legionella pneumophila

Haemophilus influenza

Mycobacterium tuberculosis
ICD-10-CM Alphabetic Index:
Pneumonia
As you can see above from the ICD-10-CM alphabetic index, if the causative bacteria for the lobar pneumonia is known it would be coded to that specific type of bacterial pneumonia.
References
https://en.wikipedia.org/wiki/Lobar_pneumonia
https://radiopaedia.org/articles/lobar-pneumonia
https://commons.wikimedia.org/w/index.php?search=lobar+pneumonia&title=Special%3ASearch&go=Go#/media/File:Lobar_pneumonia_illustrated.jpg
AHA coding Clinic for ICD-10-CM/PCS, Third Quarter 2019 Page: 37
AHA Coding Clinic for ICD-10-CM and ICD-10-PCS, Third Quarter 2018 Page 24-25
AHA Coding Clinic for ICD-10-CM and ICD-10-PCS, Third Quarter 2016 Page 15
AHA Coding Clinic Third Quarter 2009 Pages: 16 to 17
AHA Coding Clinic March-April 1985 Page 6
---
HIA's comprehensive auditing approach
includes
acute coding audits
and
Clinical Documentation Integrity (CDI) audits
.
Subscribe to our Newsletter
Related blogs from
Medical Coding Tips
In this Coding Tip, we present the new ICD-10...
Subscribe
to our Newsletter
Weekly medical coding tips and coding education delivered directly to your inbox.