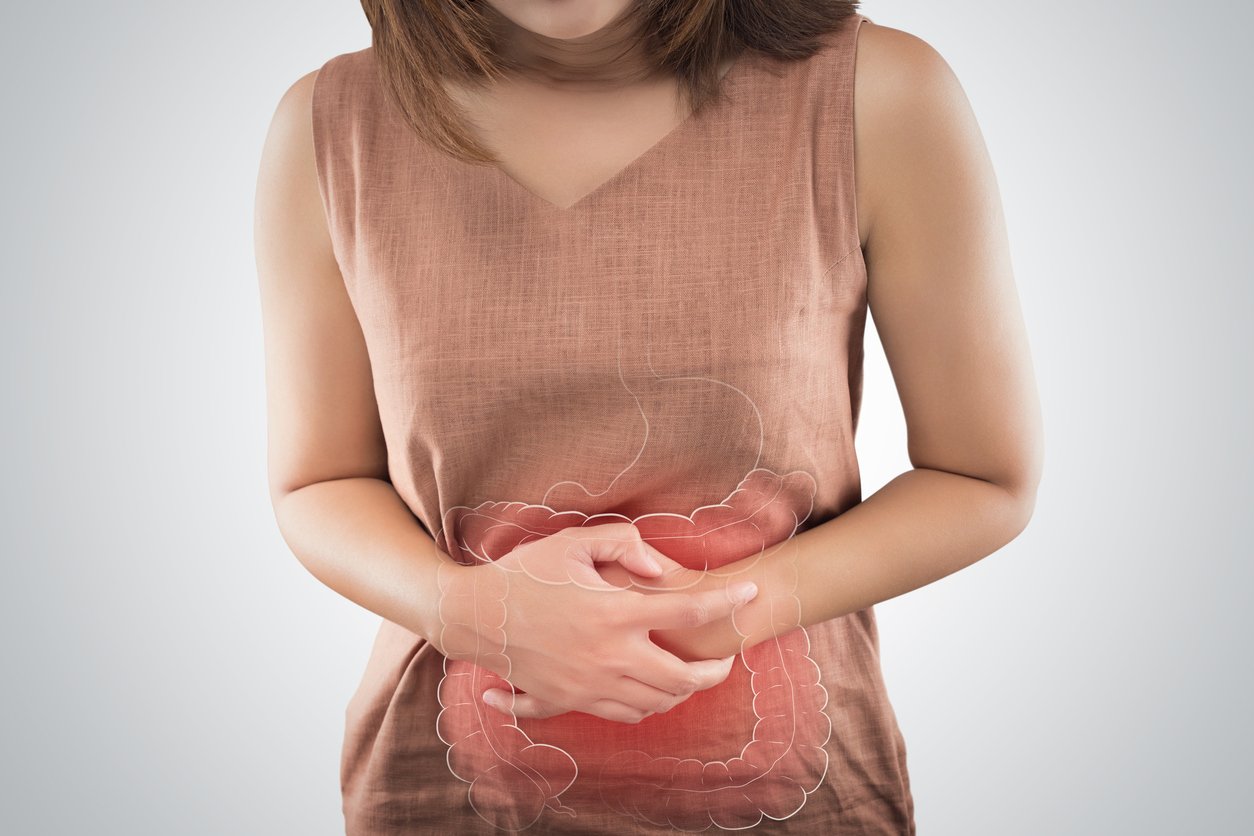 What is Clostridium Difficile Enterocolitis?
Clostridium Difficile Enterocolitis (C. diff) is a diagnosis that coders see a lot these days. This is a bacteria that causes inflammation in the large intestine (colitis) and may cause watery diarrhea, fever, nausea and abdominal pain. C. diff causes antibiotic-associated colitis by colonizing the intestine after the normal gut flora is altered by the use of antibiotic therapy. The bacteria is most often found in older patients or those that require prolonged use of antibiotics. The bacteria is shed in feces and people may become infected if they touch a surface that has been contaminated (e.g., commode, bathtub) and then touch their mouth or mucous membranes. Healthcare workers may also spread the bacteria to patients and/or contaminate surfaces through hand contact. In fact, it is one of the most common healthcare associated infections. There are multiple interesting statistics and further information in the AHA Coding Clinic® for ICD-10-CM and ICD-10-PCS, Page: 4.
The type of treatment of C. diff depends on the patient. In some cases, discontinuation of an antibiotic is all that is needed. Oftentimes, however, patients need to be placed on a different type of antibiotic. Metronidazole (Flagyl), Vancomycin or Fidaxomicin are the most common medications used to treat C. diff. Bezlotoxumab (ZINPLAVA) is used to treat patients that are at high risk for recurrence or those that are already receiving another antibiotic. Fecal transplantation is recommended for patients with multiple recurrences of the bacterial colitis.
New Code for 2018
There is now a new code for reporting recurrent C. difficile colitis for discharges after 10/1/2017. This code should be reported based only on provider documentation. By adding the new code to show recurrent infections, better statistical analysis will be had.
From the ICD-10-CM Index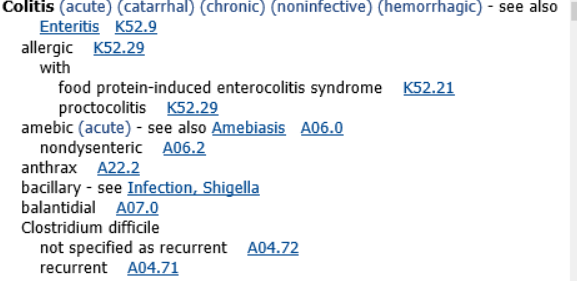 It is important that coders report procedure codes for administration of Bezlotoxumab (ZINPLAVA.) This drug reduces recurrence of CDI because, unlike antibacterial drugs, it is a human monoclonal antibody targeting C. diff toxin B and does not affect the GI microbiota. It is supplied as a 1000 mg/40 mL (25 mg/ML) solutions in a single-dose vial. Recommended dose is 10 mg/Kg administered as an intravenous infusion over 60 minutes.
References:
ICD-10-CM Index
AHA Coding Clinic, Fourth Quarter 2017 Page: 4
wikipedia.org/wiki/Clostridium_difficile_infection
cdc.gov/hai/organisms/cdiff/cdiff-patient.html
---
HIA's comprehensive auditing approach
includes
acute coding audits
and
Clinical Documentation Integrity (CDI) audits
.
The information contained in this coding advice is valid at the time of posting. Viewers are encouraged to research subsequent official guidance in the areas associated with the topic as they can change rapidly.
Subscribe to our Newsletter
Related blogs from
Industry News

,

Medical Coding Tips
In this Coding Tip, we present the new ICD-10...
Subscribe
to our Newsletter
Weekly medical coding tips and coding education delivered directly to your inbox.