This is Part 4 of a
five part series on the new 2019 CPT codes
. In this series we will explore the CPT changes for FY 2019 and include examples to help the coder understand the new codes. There is 1 new lymphatic code, 2 new digestive system codes with 3 deletions, 3 new urinary system codes with one deletion and 7 deleted nervous system codes with 2 revisions.
Lymphatic System – Biopsy of Lymph Node
One new code was created for excision of inguinofemoral lymph nodes, 38531, Biopsy or excision of lymph node(s); open, inguinofemoral node(s (For bilateral procedure, use modifier -50). These nodes are located in the groin area and are commonly removed in conjunction with other procedures. Previously, there was not a code to identify these lymph nodes.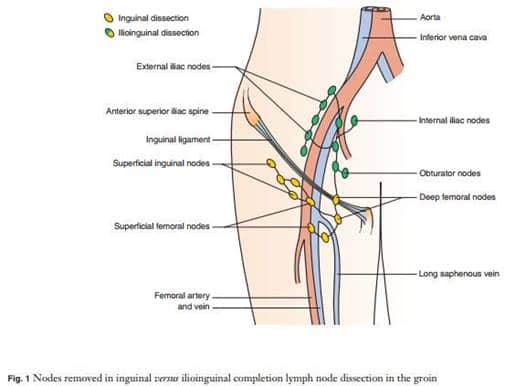 Digestive System – Replacement of Gastrostomy Tube
Codes 41500 and 46762 were deleted due to infrequent use. Code 43760, change of gastrostomy tube, percutaneous without guidance was deleted and replaced with two new codes:
43762, Replacement of gastrostomy tube, percutaneous includes removal, when performed, without imaging or endoscopic guidance; not requiring revision of gastrostomy tract (includes contrast shot to confirm. This would not be considered guidance)
43763, requiring revision of gastrostomy tract
Code 43763 may require dilation and incision of tract due to stenosis or tract may require debridement. When does the tract have to be revised? If tube is left a long time, maceration around the tube occurs and there is inflammation, and the tract is then unusable.
Use 43762 for change of cecostomy tube as well. This was discussed at the AMA CPT Symposium in November.
Coders must be aware of the guidance used or not used to correctly assign replacement of gastrostomy tubes. For percutaneous replacement of gastrostomy tube under fluoroscopic guidance, use 49450. For endoscopically directed placement of gastrostomy tube see 43246.
Urinary System – Nephrostomy Tube
Code 50395 for dilation of tract for nephrostomy has been deleted. In its place, 2 new codes were created:
50436, Dilation of existing tract, percutaneous, for an endourologic procedure including imaging guidance (eg, ultrasound and/or fluoroscopy) and all associated radiological S&I, with post-procedure tube placement when performed. The enlargement of the existing tract to accommodate large instruments that will be used to perform other endourologic procedures.
50437, including new access into the renal collecting system (includes new access performed in the same session when a pre-existing tract is not present) (includes all elements of 50436)
(Do not report 50436, 50437 with 50080-81, 50384, 50430-34, 74485)
The coder must not confuse 50432, placement of percutaneous nephrostomy for drainage only with the new codes 50436 and 50437. Key words in the procedure report for 50432 are "access needle" "nephrostomy tube (catheter)." Key words for codes 50436 and 50437 are "balloon dilator" "serial dilators" "sheath."
Finally new code 53854, Transurethral destruction of prostate tissue, by radiofrequency generated water vapor therapy was created and replaces old HCPCS code C9748. A video of water vapor therapy that usually treats BPH is located here: http://www.nxthera.com/convective-wave/
Nervous System – Various Codes Deleted
The AMA deleted codes 61332, 61480, 61610, 61612, 61642, 63615, 64508, 64550, mostly because these procedures are not done so much anymore. Two codes were revised as below (vascular family changed to territory)
▲ +61641, Balloon dilatation of intracranial vasospasm, percutaneous; each additional vessel in same vascular territory
▲ +61642, Balloon dilatation of intracranial vasospasm, percutaneous; each additional vessel in different vascular territory
Our final Part 5 of the series will cover miscellaneous CPT updates not covered thus far.
The information contained in this post is valid at the time of posting. Viewers are encouraged to research subsequent official guidance in the areas associated with the topic as they can change rapidly.