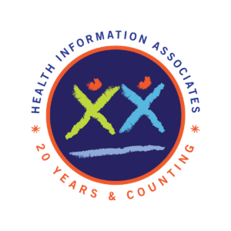 "I am amazed when I look back at the growth of this company and realize 20 years have passed and we are still going strong. The reason is simple…it's our people." says Betsy Bailey, co-founder and CEO of Health Information Associates.
And boy, how she has celebrated HIA's 20-year milestone with her people! Bailey treated her entire staff (and their guests) to a three-day anniversary event, aka "Family Reunion," at the luxurious Ritz Carlton resort in Amelia Island, Florida.
Teamwork was a running theme throughout the three days of planned activities; one evening, everyone was encouraged to wear their favorite team's jersey to a private Tailgate party which took place on the sprawling, resort lawn overlooking the ocean. Guests enjoyed ocean breezes, and lively music while they ate BBQ, played lawn games, and danced.
Competition was fierce yet lively, one afternoon, as staffers engaged in some hilarious teambuilding exercises such as the Tricycle Relay Race, where communication and listening skills were tested in comical fashion. The object of this exercise was to have one team member shout directions across the room to their blindfolded partner who had to quickly pedal a toddler-sized tricycle, through an obstacle course, to the finish line. Peals of laughter emerged as over-sized cyclists veered drastically off course due to ineffective communication and/or sheer clumsiness.
A philanthropist at heart, Betsy also arranged to have her employees work in teams to construct bicycles, piece by piece, for underprivileged children in the area. Once all the bicycles were built, each team was able to present their gift, in person, to the recipients and their families.
On the last evening in Amelia Island, the CEO toasted her employees and gave a moving speech about the importance of teamwork; "I love this company and all we represent – from our services, to our customers but mostly to all of you. I value each of you for your hard work and dedication, and appreciate how you value our clients and ultimately the quality of the services we provide.
HIA's continued growth is entirely up to us. It really boils down to passion. Be passionate about this company and your job. If you love what you are doing, you will excel and so will our business. HIA, to me, is more than a business – it is my passion and you are part of my family. I feel that we are strong today and I promise we will be strong tomorrow. We have a dynamic past, and ahead of us is a challenging future we will face together. My pledge…we will continue to grow – slowly and steadily – to meet the needs of our clients and to embrace the changes our industry is heading towards. We will keep in place our selective hiring practices to ensure HIA is truly the best in our industry. And most importantly, HIA will continue to provide you with a secure place to work and an atmosphere of mutual respect and appreciation for all you have committed to this company and its success. This alone is why I believe HIA has been so successful. None of us are as smart as all of us are together!"