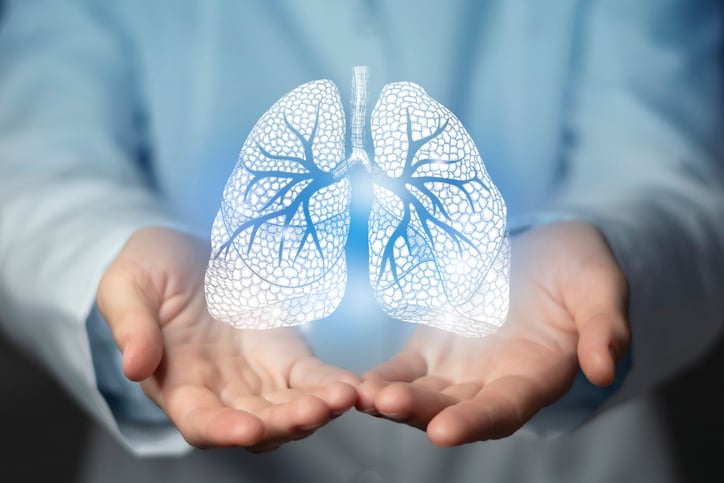 Below are some definitions for clarification:
Chronic Obstructive Pulmonary Disease

(COPD)
is a chronic inflammatory lung disease that causes obstructed flow of air from the lungs. The disease is progressive in nature and typically will worsen over time. The most common cause of COPD is smoking tobacco. COPD is increasingly being used to document lung disease. The coder must review the record for further specificity of the disease. Emphysema and chronic bronchitis are the two main conditions of COPD. COPD can also be further clarified to be with acute exacerbation.
Asthma
is an inflammatory condition in which the airways narrow and swell and extra mucous is produced. There is no cure for asthma, but symptoms may be prevented by avoiding triggers and using prescribed medications. The cause of asthma is either environmental or genetic. If asthma is present before age 12, the cause is most likely from genetics. If asthma presents after age 12, the cause is more likely to be environmentally induced. Asthma can also be further clarified as to severity as well as status asthmaticus or acute exacerbation.
Status asthmaticus
is described as asthma with acute symptoms that do not respond to standard treatment including the use of steroids and bronchodilators.
Exacerbation
is a sudden worsening of a disease and typically last several days.
In coding, if patients have COPD and asthma documented, without any further specificity of the type of asthma, only COPD would be reported. Per the instructional notes under Category J44, Other chronic obstructive pulmonary disease, code also type of asthma, if applicable (J45-). Unspecified asthma is not a specific type of asthma, so no additional code would be assigned for unspecified asthma. If the unspecified asthma is documented to be in exacerbation it would be coded in addition to the COPD. Exacerbation of unspecified asthma does not describe a type of asthma, but it does provide additional specificity regarding the asthma being in acute exacerbation.
If the documentation supports that the patient has a specific type of asthma documented and COPD, both codes could be reported. An example would be documentation in the record is COPD and moderate persistent asthma. In this case, two codes would be reported. J44.9, Chronic obstructive pulmonary disease, unspecified and J45.40, Moderate persistent asthma, uncomplicated. Codes will be dependent upon the specificity of the COPD and asthma documented. The codes in this example are only for COPD without any further specificity and moderate persistent asthma without further indication of complication.
The documentation in a record of COPD with exacerbation and the patient also has asthma does not automatically make the asthma exacerbated. Or, if the asthma is documented as with exacerbation, this does not automatically make the COPD with exacerbation. Each condition would need to be documented as exacerbated to code to this specificity.
References:
mayoclinic.org/diseases-conditions/copd/home/ovc-20204882
mayoclinic.org/diseases-conditions/asthma/basics/definition/CON-20026992
wikipedia.org/wiki/Asthma#Causes
wikipedia.org/wiki/Chronic_obstructive_pulmonary_disease
AHA Coding Clinic® for ICD-10-CM and ICD-10-PCS, First Quarter 2017 Pages: 25-26
Official Guidelines for Coding and Reporting FY 2017, Page: 47
AHA Coding Clinic® for ICD-9-CM, March-April 1985, Page: 7-8
AHA Coding Clinic® for ICD-9-CM, Third Quarter 1988, Page: 9-10
AHA Coding Clinic for ICD-10-CM/PCS, Fourth Quarter Pages: 96-97
Multiple other Coding Clinics are available to help describe the disease and disease process of both asthma and COPD.
---
In need of coding support? We offer both inpatient coding support and outpatient coding support services. Partner with us to replace underperforming coding vendors, get coding backlogs caught up, staff for a FMLA/vacation gap, special projects, to assist in Single Path Coding, or for Total Outsource Coding Support.
---
The information contained in this coding advice is valid at the time of posting. Viewers are encouraged to research subsequent official guidance in the areas associated with the topic as they can change rapidly
Subscribe to our Newsletter
Related blogs from
Medical Coding Tips
In this Coding Tip, we present the new ICD-10...
Subscribe
to our Newsletter
Weekly medical coding tips and coding education delivered directly to your inbox.