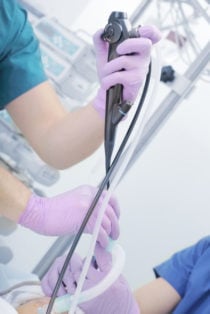 Bronchoscopy with Removal of Mucus Plugs or Foreign Body
HIA has previously discussed the coding of bronchoscopy with bronchoalveolar lavage (BAL).
The coding of procedures performed via bronchoscopy has become complicated in ICD-10-PCS. The coder must now think about the objective of the procedure to assign the correct root operation, the correct body part being addressed, and the correct approach and whether or not the intent of any removal of tissue or fluid was diagnostic.
Example: A patient undergoes a bronchoscopy due to respiratory symptoms. The entire bronchial tree is inspected. Food particles are found in both lower lobes endobronchially and were removed by suctioning. Washings were performed and submitted for microbiology.
The coder may be tempted to code 0BJ08ZZ, Inspection of tracheobronchial tree, via natural opening, endoscopic and 3E1F88Z, irrigation of the respiratory tract, via natural opening, endoscopic. However, this would be incorrect. Suctioning and washings should not be confused with lung lavage, 3E1F88Z. Whole lung lavage is a therapeutic procedure performed most often for pulmonary alveolar proteinosis. The procedure is performed under general anesthesia and mechanical ventilation. The lungs are lavaged by filling and emptying one lung at a time with saline solution. The second lung is usually lavaged three to seven days after the first lung has been lavaged. The coder would report a true whole lung lavage using code 3E1F88Z, Irrigation of respiratory tract using irrigating substance, via natural or artificial opening endoscopic. Assign also a code for the mechanical ventilation provided during whole lung lavage. This is NOT what our physician is doing in our example. These codes would be incorrect.
Coders may also be tempted to assign 0BCM8ZZ for Extirpation, lungs, bilateral via natural opening, endoscopic. The problem here is that the mucus plugs are not in the lung, but are in the bronchus. Another key is the term "endobronchially." Body part value "bilateral lungs" would not apply. This code would be incorrect for our example.
The correct codes for our example are:
0BC68ZZ
Extirpation of Matter from Right Lower Lobe Bronchus, Via Natural or Artificial Opening Endoscopic

0BCB8ZZ
Extirpation of Matter from Left Lower Lobe Bronchus, Via Natural or Artificial Opening Endoscopic
There is no body part value for "bilateral" bronchi for both lower lobes as there is for lungs, bilateral. Also, the mucus plugs are endobronchial, meaning they are within the bronchus. According to Coding Clinic Third Quarter 2017 page 14, it is not required that irrigation and washing be coded separately as the suctioning of the foreign body (extirpation) was the definitive procedure. Since both the right lower lobe bronchus and left lower lobe bronchus had mucus plugs extirpated, two codes are needed. Also, food particles would be considered foreign bodies and the root operation definition that applies is extirpation.
Coders should make sure they are reviewing all of the Coding Clinics regarding bronchoscopic procedures. And keep in mind, since changes to the table values for body parts and approaches have been made, some of the older Coding Clinic advice on the subject may have changed.
---
In need of coding support? We offer both inpatient coding support and outpatient coding support services. Partner with us to replace underperforming coding vendors, get coding backlogs caught up, staff for a FMLA/vacation gap, special projects, to assist in Single Path Coding, or for Total Outsource Coding Support.
---
The information contained in this coding advice is valid at the time of posting. Viewers are encouraged to research subsequent official guidance in the areas associated with the topic as they can change rapidly.
Subscribe to our Newsletter
Related blogs from
Medical Coding Tips
In the healthcare industry, quality measures ...
Subscribe
to our Newsletter
Weekly medical coding tips and coding education delivered directly to your inbox.